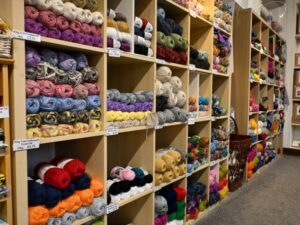 Welcome
The Prolific Crafter is based in Church Stretton, within the Shropshire Hills. We stock a range of specialist yarns from companies such as Fyberspates, WYS and King Cole as well as KnitPro knitting needles and crochet hooks. You will also be able to find a large range of fibres for felting and spinning. We are an Ashford dealer and we stock a range of spare parts.

Unique gifts
Specialist yarns and wools
Sign up to The Prolific Crafter Mailing List here!
The Prolific Crafter
10 Sandford Avenue, Church Stretton, SY6 6BW
Call us on 01694 724041
Email: info@theprolificcrafter.co.uk
Opening hours
Monday – Friday 10am – 4pm
Saturday 10am – 4.30pm
Sunday CLOSED